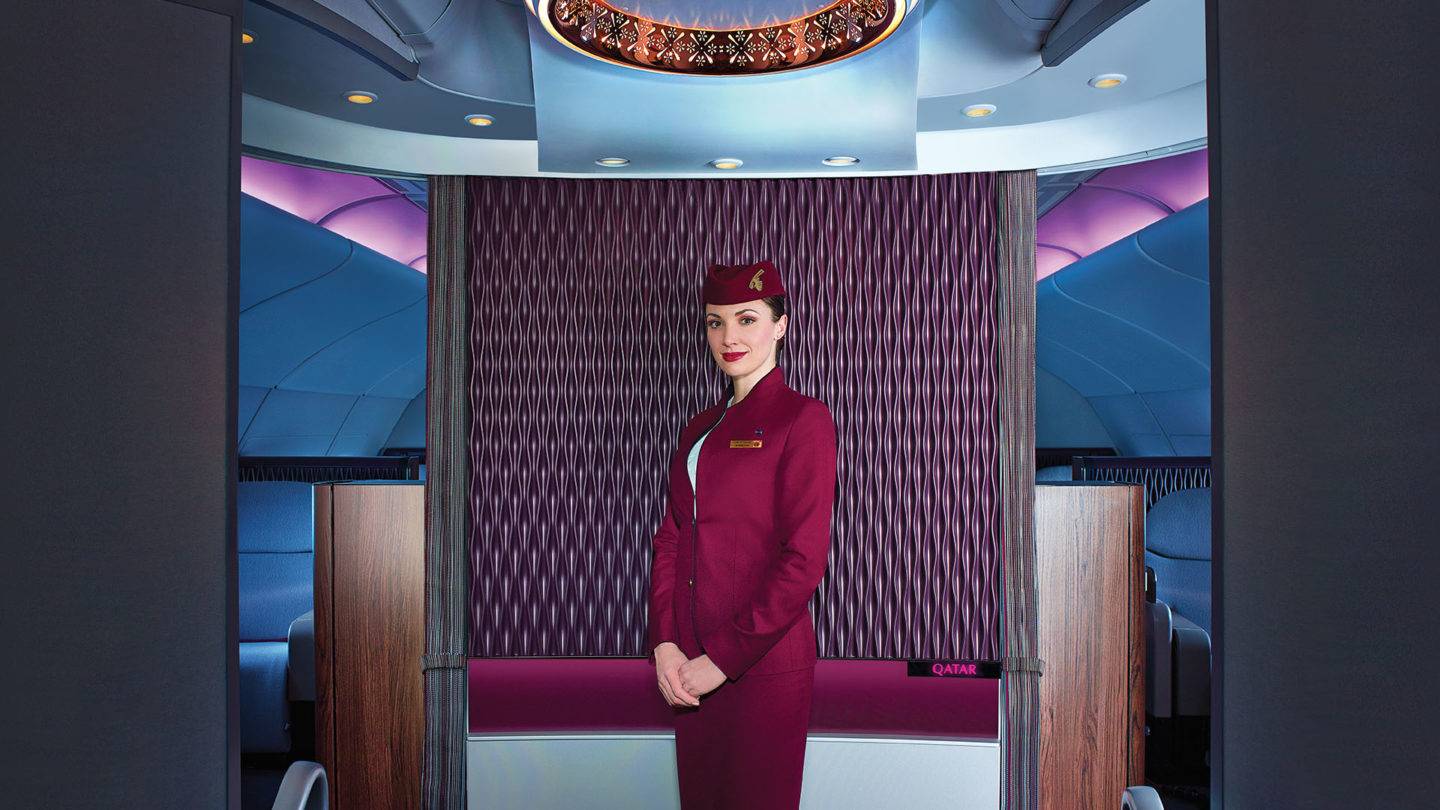 Qatar Airways
PriestmanGoode has worked in partnership with Qatar Airways for well over a decade. During that time, we collaborated on a number of projects including the groundbreaking Qsuite, which has brought to market the first social layout and the first double bed in a business class cabin.
Challenge
Qatar Airways has always stood for exceptional customer service, and as the airline invested into new aircraft like the A380 and the A350, it saw the opportunity to create cabin interiors that would redefine our expectations of what commercial luxury airline cabins look like. In our time working together, Qatar Airways has been a pivotal driving force in elevating passenger experience in air travel.
Solution
Throughout our time working with the team at Qatar Airways, our goal has been to support the airline's development of a strong brand known for innovation and outstanding interiors, through close collaboration. This is perhaps best exemplified in Qatar Airways' QSuite Business Class seat, an award-winning product that is the result of a close collaboration between the airline, seat manufacturers Collins Aerospace and PriestmanGoode.
The Qsuite was unveiled to wide acclaim in 2017 and redefined expectations of business class travel. The Qsuite is the first Business class suite in the world to have a double bed. In addition, centre quads allow groups of four to sit together, providing the first truly social at seat experience in a Business Class cabin.
Each suite can also become a private individual space thanks to fully closing doors and privacy panels on every side. The seat has received a host of awards, from the prestigious Crystal Cabin Award for Best Cabin Concept to the Skytrax award for World's Best Business Class.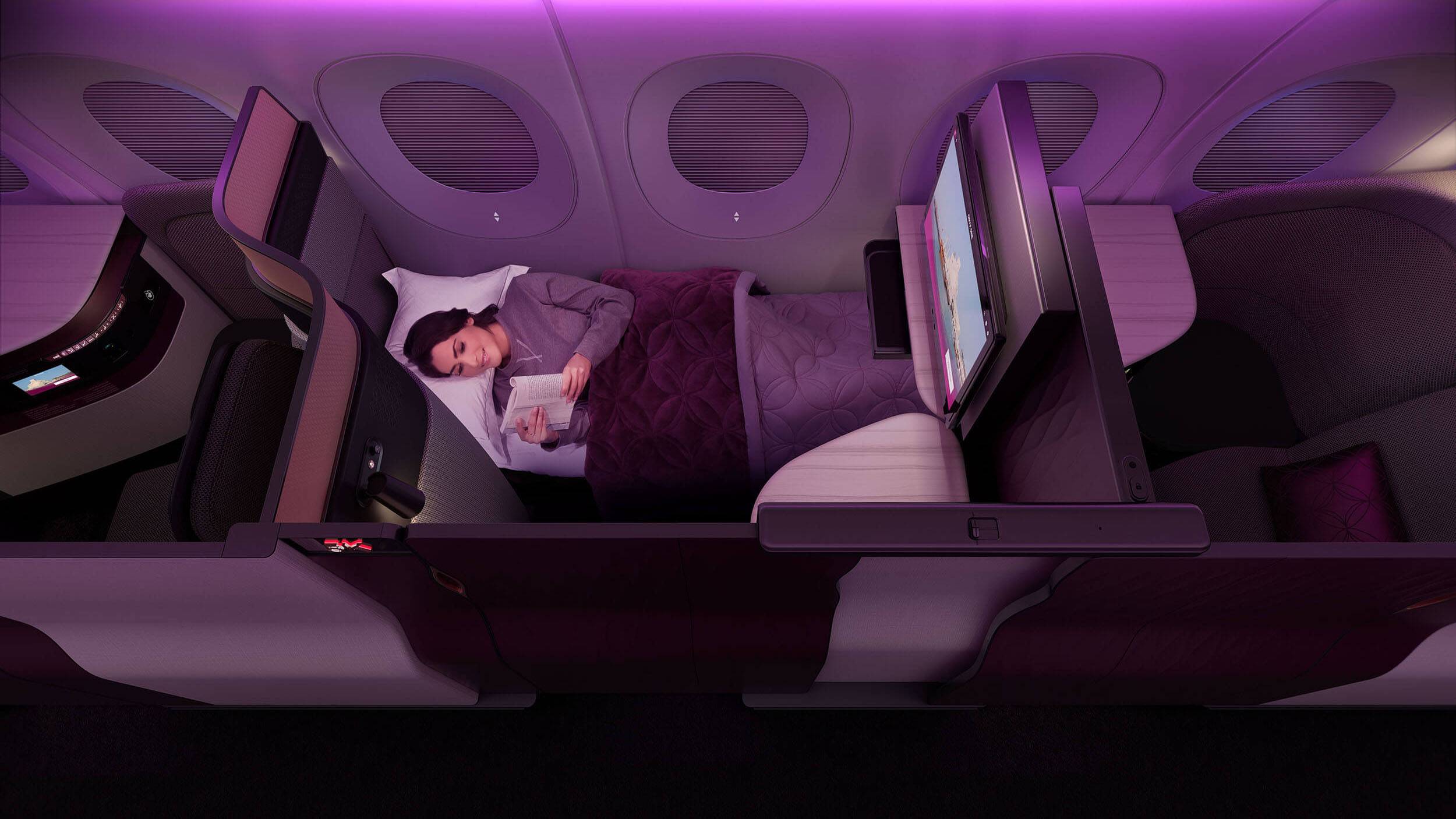 For the airline's A380, PriestmanGoode developed a luxurious First Class cabin and a Premium-Lounge with a custom-designed bar and sofa seating offering a relaxed social space more akin to a contemporary hotel. The First Class seats are entirely custom-designed with bespoke seat controls and optional screens for privacy. A large table equally suited to working or dining offers passengers a highly functional onboard environment.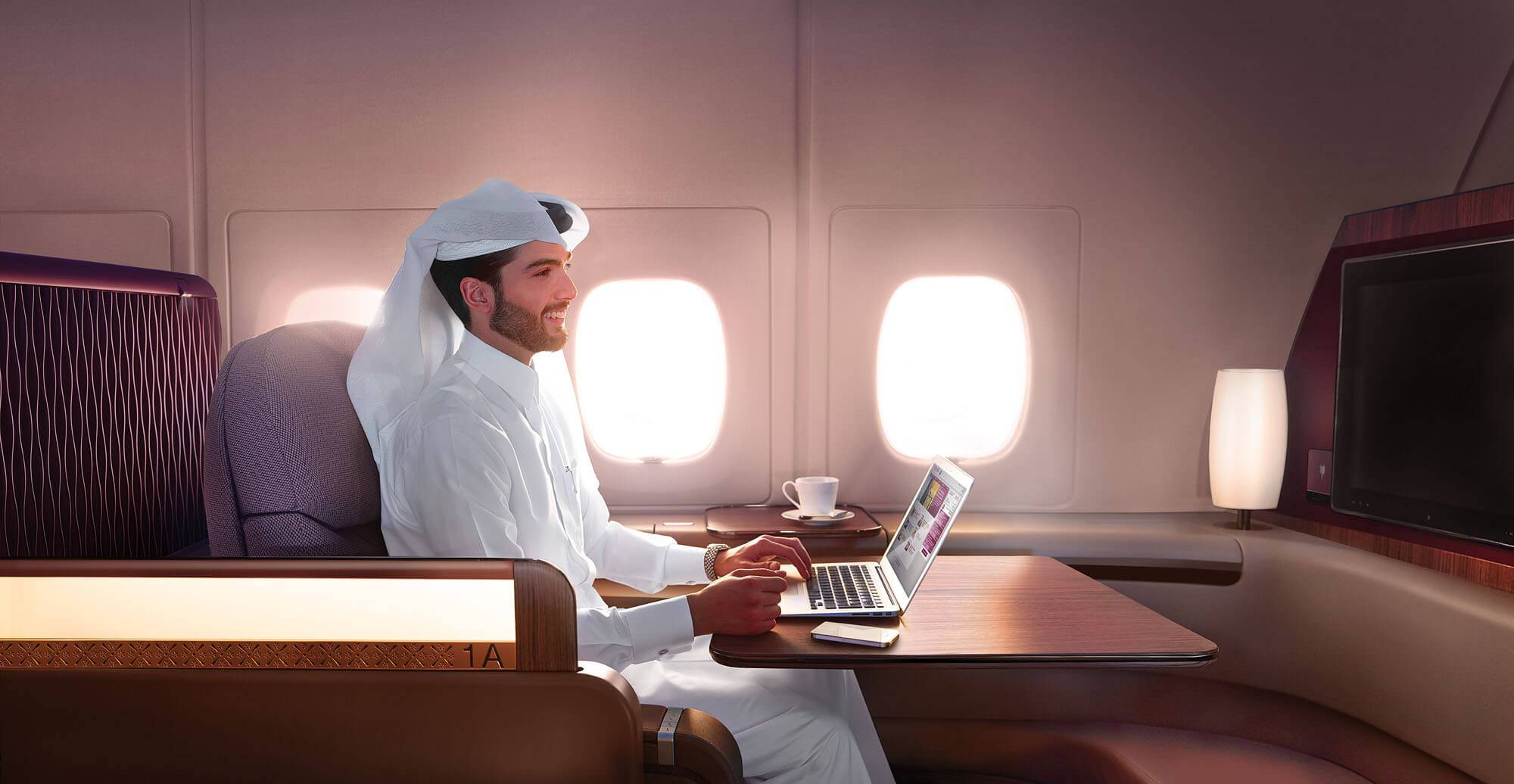 Over the course of each project, our CMF team has worked with the airline to develop a host of materials and patterns inspired by Middle Eastern cultural heritage. This is exemplified in the intricate detailing in the bespoke stitching details on seat fabrics, brand panels as well as the statement custom light in the entrance area of the A380. Meanwhile, the Premium bathroom was designed as a calming, spa-like area with custom designed waterfall tap and a tile-effect wall.
Our visualisation team worked closely with Qatar Airlines' own marketing department to create a suite of images and videos to promote the new enhanced cabin offers. For the Qsuite, we created a 360 degree cabin tour, as well as advertising content using a combination of green screen filming and computer generated imagery. Our TV commercial aired on leading global media platforms, from BBC World to CNN, Al Jazeera and CNBC Asia. The films and images created have been widely used both in paid for and organic media, and enabled the airline to engage with existing and potential customers.