Aegean
PriestmanGoode worked in collaboration with AEGEAN to develop a vision for the airline's brand going forward, spanning everything from logo design, livery, graphic items and digital products to cabin interiors. Our partnership continues to this day, and involves a wide range of projects from onboard products and services to marketing and communications.
Challenge
AEGEAN wanted to refresh their brand in a way that was respectful to their existing, much-loved twin gull logo. The airline had just seen Greece's largest private investment ever (6 billion euro) with the purchase of new aircraft and wanted an identity and cabin interiors that would enhance their brand values and position them as one of Europe's leading carriers.
While the initial project focused on the brand refresh and design of the airline's new fleet of A320neo aircraft, the continuing challenge involves rolling out the brand across every single touchpoint, from digital services to airport signage, lounge design, cabin retrofit and all communication materials both internal and external.
Solution
The new brand we designed for AEGEAN encapsulates the airline's values and reflects its vision for the future, with a distinct identity that can apply across both physical and digital touchpoints.
Our starting point was the airline's twin gull logo – a source of pride for the airline, its employees and customers – which we refreshed into a modern symbol of excellence that references the brand's heritage, and the landscape and architecture of Greece more broadly. It hints to Greek classical forms and embodies a purity of symmetry and harmony, taking inspiration from the balance between the Aegean Sea and surrounding skies that unite the Greek nation.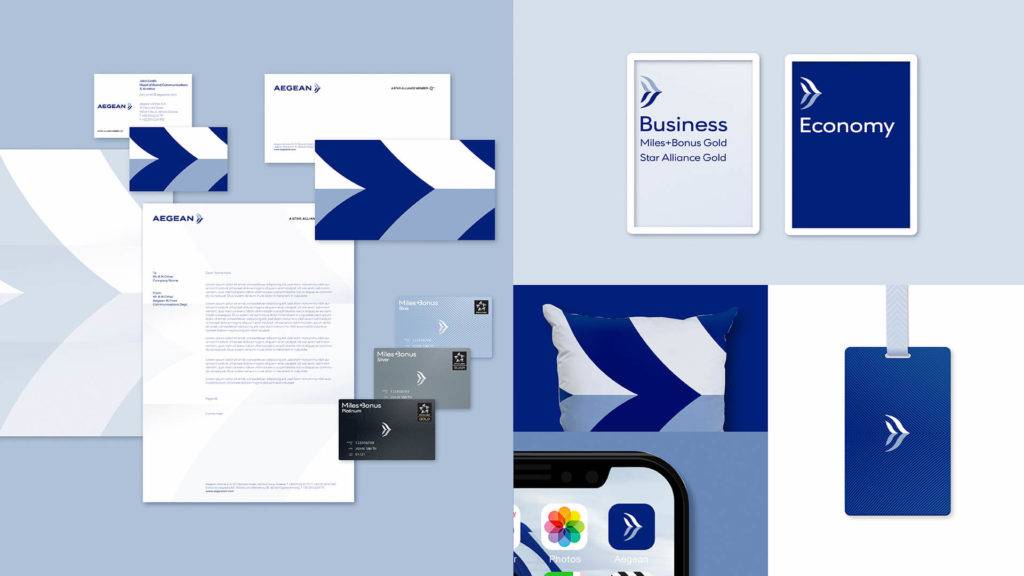 We designed all new cabin interiors for AEGEAN's new fleet of A320neo, which further reflect Greece's cultural heritage, and translate the new brand into an onboard environment. Brand motifs have been transformed into subtle patterns to use on textiles, while a signature brand panel sits at the front and back of the cabin. All material finishes have been custom-designed and are unique to AEGEAN.
Our CGI + Visualisation team created a range of marketing materials for the launch event including press images, animations and a virtual cabin tour, providing the airline with a way to communicate its new products and ambitions to existing and new audiences. Our team also worked with a local agency to create an animation for the launch event. Hosted in a vast hangar at Athens Airport, the 1500-strong event combined animation with projection mapping onto one of the new aircraft, which guests were then able to explore. At this event, the Greek Prime Minister referred to Aegean as Greece's national airline for the first time in the airline's 20 year history, establishing its importance as a representation of Greece on the international scale.
The launch of the airline's new brand and interiors received wide acclaim and achieved significant reach with over 800 pieces of press coverage globally in the weeks following the launch.
"Working with PriestmanGoode has been an incredibly fruitful partnership. They worked closely with us throughout the process, to understand our needs and to create a new brand identity that was respectful of our much-loved existing identity and reflected our vision for the future.
"
Marina Valvi, Marketing Director, Aegean Airlines

"When was the last time you watched an aircraft taxi past and thought: "Ooh, that's a hot bit of graphic design"? Although we've yet to see Greek carrier Aegean Airlines' newly launched livery in person, we're awarding it top marks for coming up with a fresh identity that lives up to its eastern Mediterranean roots while also capturing the spirit of a Greece on the rebound."
Monocle, February 2020
Awards
Transform Awards 2021, Silver, Best Transport and Logistics Brand Identity – Aegean brand identity