A new First Class suite setting new standards in aviation for comfort and privacy
PriestmanGoode's design for Lufthansa's new First Class Suite has been previewed ahead of a full launch in 2023. It's also the 25th major project the studio has completed for the airline group in a relationship spanning 23 years.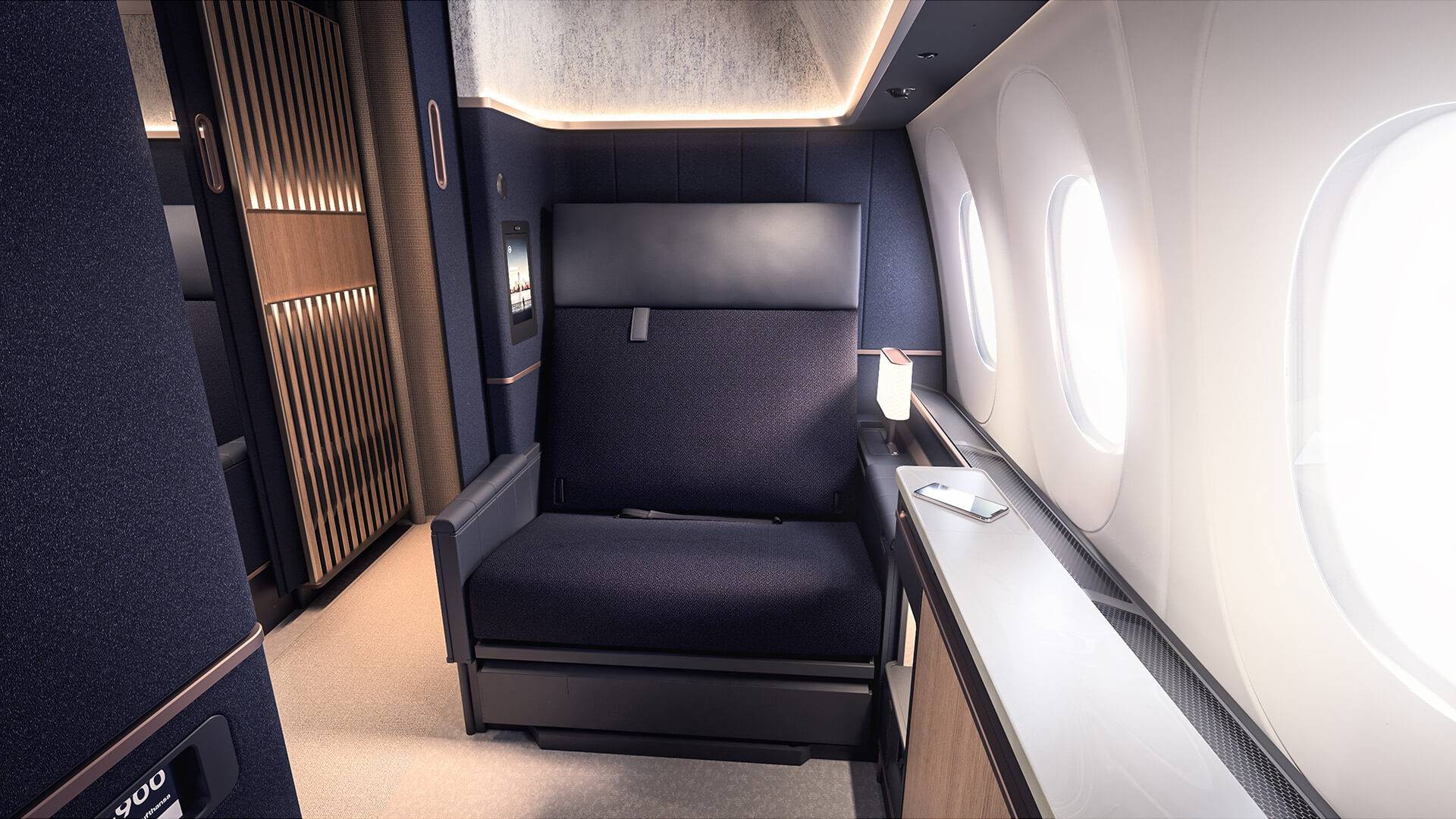 PG was commissioned to design the new suites back in 2018 and has created an interior that's a step-change in terms of privacy, comfort and the choices available to Lufthansa's First Class passengers. The design team has successfully achieved the ambience of  the most comfortable luxury space at home, but in the air. Two views of the new First Class Suite were released in October 2022, with full details to follow in early 2023. Read the press release here.
Other recent projects include the new Premium Economy cabins designed by PriestmanGoode for Lufthansa and SWISS, and signal a new, progressive approach to premium cabin design with a range of features that facilitate comfortable, connected journeys and support the way future passengers will choose to spend their time in the air. The new Premium Economy cabins will feature in 19 of Lufthansa's Boeing 747-8 and 9 of the SWISS Boeing 777-300ER and Airbus A340 and A330.
Premium cabins
Premium cabins represent a big opportunity for aviation with the leisure market placing greater value on space and the business market seeking value from travel budgets whilst not wishing to compromise on comfort.
Lufthansa Group has always been committed to investing in an early design phase that PG calls 'Discover' which informs the design language for the entire project and ensures the passenger remains central to all decisions. Whereas two decades ago it was possible to differentiate Premium through an enhanced meal service and soft cabin items, today the seat and cabin environment must support wellbeing and lifestyle requirements as part of the overall passenger experience.
The new Premium Economy cabins feature the same engineering across both airlines, but two very distinct design languages achieved through brand application and the selection of trim and finishes that reflect the 'sense of place' that PriestmanGoode is known for. In the case of Lufthansa, the palette of dark blue woven seat covers with panel stitch detail, cooler greys in the structures and highlights of warm brown leather on the armrests and literature pocket edging speaks of Lufthansa's consistent reputation for quality. The SWISS Premium Economy cabin includes an entirely different CMF design with dark beige, chocolate, cool grey and signature check seat cover design that continues the innovative choice of materials and surface that SWISS passengers appreciate.
Recognising that clearly defined personal space is more important than ever for some passengers, the seats feature a fixed back shell and headrest divider with personal adjustable reading lights.
Ease of use and elimination of repetitive actions during the journey was a guiding principle for PriestmanGoode's design. Research indicated that the need to retrieve items such as personal devices from the overhead compartments can be a 'pain point' and therefore the seats include easily accessed stowage for headphones in the seat divider and personal entertainment devices in the central credenza. Individual wireless device charging is conveniently located under the armrest, a range of alternative charge points are all within immediate reach.
To support the value proposition around comfort, the greater recline, fold-out leg rest and other features such as bottle holder, cocktail table and subtle wash lighting in key areas provide points of differentiation to justify the passengers' cabin choice – and also enable delivery of a premium service by crew.
Key features of the seats include:
46 cm seat width

31 degrees max tilt

15.6 inches screen size

99 cm seat pitch

Headrests with 4 adjustable settings

USB charge points 

Personal reading lamps
"We want to set new unprecedented standards for our guests. The largest investment in premium products in our company's history underpins our claim to continue to be the leading Western airline in the future. "
Carsten Spohr, Lufthansa Group CEO